Barrow upon Soar Community Association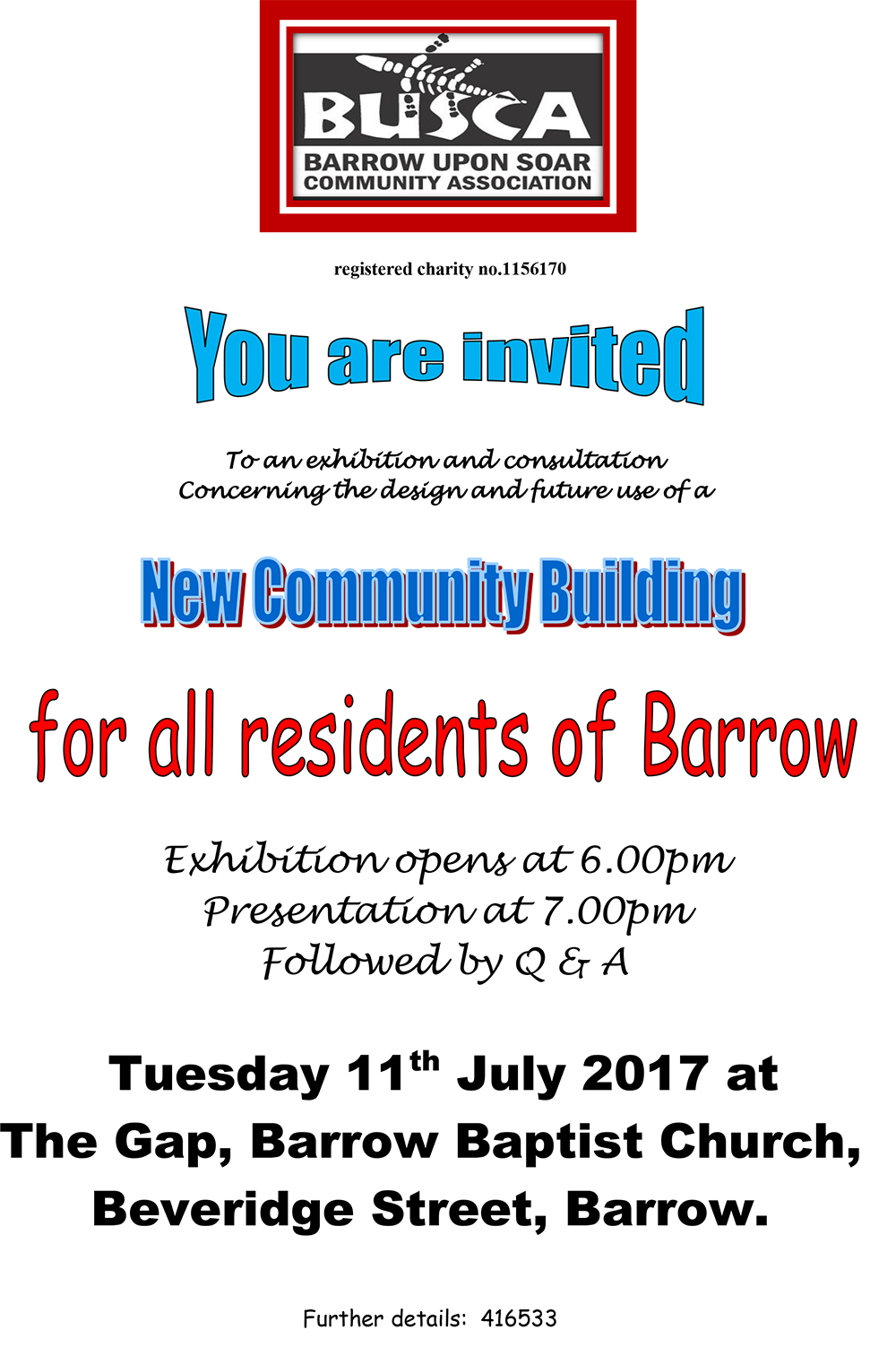 Hi all
Good news from Sue and the New Community Building Committee: We are now at a stage where we can say that a New Building is a realistic possibility.
To this end we have arranged a consultation meeting on Tuesday 11th July at the GAP, Beveridge St. The presentation and consultation start at 7.00 but there will be an exhibition available from 6.00. (see the attached poster).
Attendees will be informed about the proposed site and why and how it has been selected.
Further information about the priorities for what should take place in the building will be collated.This will inform the design of the building , allow more detailed planning and allow the project to move to the next phase.
It is really important that the consultation is well supported and approved and we ask that you make it a priority to attend the meeting if you humanly can. It would also be excellent if you could bring along other interested residents.


What Does BUSCA Do?
Barrow Upon Soar Community Association is a Registered charity (a C.I.O.) that organizes and runs many community activities in Barrow. It consists of a number of subgroups, each with its own role.
These are
Barrow Voice produces the village's magazine.
Events Committee organizes entertainments.
Heritage Group explores aspects of Barrow's history.
Library Committee is working to keep Barrow library open.
New Community Building is seeking to acquire a multi-purpose community building for Barrow.
Panto Group produces an annual panto and other shows. Its junior branch is the,
Youth Theatre which puts on an annual production.
Trustees' Council is responsible for the overall management of BUSCA.
Twinning Group is twinned with Marans in France.
Website administrators look after five Barrow websites.


Here is a flavour of what BUSCA gets up to:
BUSCA's current major project is to KEEP BARROW LIBRARY OPEN. Click on Library to read an up-to-the-minute account of where we are.
Our main BUSCA Trustee's meetings are usually held four times a year. The Meetings page provides details of dates. Do come along.
BUSCA in 2017
Panto Group
Barrow Youth Theatre
Events committee
The Events committee is a group of people putting ideas into action to create social events for us all. There have been dances featuring live music and buffet suppers, street markets, professional theatre productions.
Heritage Group
The Group regularly meets and works on projects with connections to the history of Barrow. For more information about their work and projects, visit their website www.barrowuponsoarheritage.org.uk
New Community Building
BUSCA aims to provide a multi purpose building, to provide space for facilities that the village does not have at present.
We are currently undertaking a professional feasibility study to review possible sites and assess their feasibility.
Twinning Group
The Twinning Group became part of BUSCA in 2014. Barrow is twinned with the French town of Marans in the Charente Maritime of southwest France.
The twinning association aims to foster relations between the two towns and regularly arranges exchange visits. You may have seen some of the visitors this year on walks around the village in the summer.
The group also holds regular social events for members and guests throughout the year. At the end of October there was a quiz night and shortly they are holding a pie night.
Library
The Barrow Community Partnership Library went Live on Monday 27th July 2015 and BUSCA was officially handed the keys to the library. We have over 50 volunteers who have all had training and run a library that feels like a community hub.
Websites
The small team of website administrators have worked incredibly hard over 2015 and 2016 to build two new websites to replace the old Leicestershirevillages site and the Heritage site which were both closed down by LCC in August 2016. Barrow now has two fantastic new sites which are modern, up-to-date and jammed full of useful info. To celebrate, we have designed and produced a new website flier, itemising the roles of the Village Website, Heritage site, BUSCA site, Barrow Voice site and the Parish Council site. The flier goes hand in hand with a new Welcome Pack for new residents.
---
As you can see, much is going on. We value the continued support of our members.
For details of all forthcoming events, visit the Forthcoming Events page.
Almost all of these events were announced and reported in Barrow Voice, our splendid quarterly community magazine.
So you can see that there is plenty of variety in what BUSCA does. If you would like to join us, give Judith a phone call on 07718 153117 or email judithrodgers155@gmail.com or click on SUPPORT US and follow the links. THERE'S ALWAYS SOMETHING NEW GOING ON.
---