Test-page
To purchase more than one ticket, click Add to Cart and edit the quantities on the view cart. To buy tickets of different types, or for multiple concerts, click Continue Shopping to return to this page.
Keep your receipt, this is proof of purchase and forms your ticket entry.
You can also buy tickets from:
For each of the dances:
From Paper Shop or by emailing mikethetiler@hotmail.com or phoning 01509 413649
Productions:
From Paper Shop or by emailing judithrodgers155@gmail.com or phoning 07718 153117
Increase quantity of tickets required in View Cart
Barrow does Autumnwatch
Price:-
FREE
Date of Event:-
Saturday 22nd September
Time of Event:-
12:00
Venue:-
The Gap & Baptist Church
Barrow Open Gardens and the Gardening Club present:
BARROW DOES AUTUMN WATCH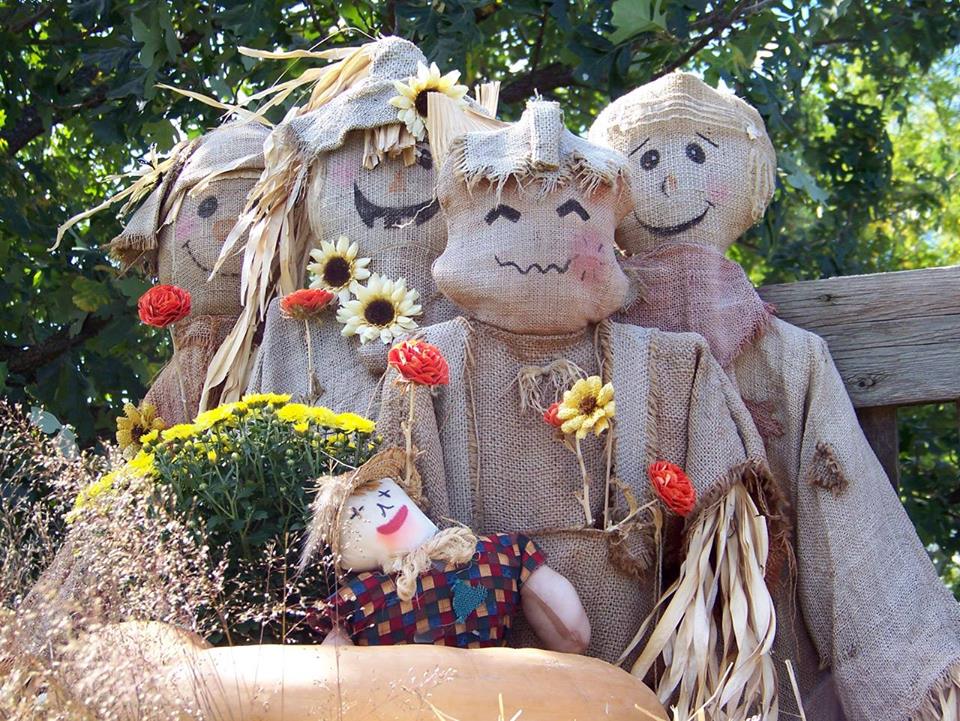 Take time to wander down past the pop-up River Soar and through the Scarecrow Field to the Autumnwatch Barn, enjoy the entertainment and have a great family day out.
PLUS:
Sample lovely food from our Garden Cafe and Harvest BBQ.
Be entertained by the Ukelele Band and other fabulous Barrow musicians in the pop-up barn.
Make a scarecrow and enter our competition.
Browse the work of Barrow Artists and Crafts people.
Buy Artisan Bread from Bród.
Make a wish for Rainbows and enjoy lots of other fun activities.
Choose a lovely plant from Nurseryman John Schofield and buy fresh produce from Barrow Allotments and Gardens.
Talk to experts on the Wildlife Stalls about flowers, bees, hedgehogs, trees, plants, composting and so much more.
12:00noon to 4:00pm
See you there and help us celebrate Harvest Barrow Style.
FREE ENTRY
The Gap
Baptist Church
Beverage Street
Barrow upon Soar
Murder Mystery: Death by Radio
Price:-
£12.00
Date of Event:-
Saturday 6th October
Time of Event:-
7:30pm
Venue:-
Humphrey Perkins Community Centre
Saturday 6th October starting at 7:30pm in Humphrey Perkins Community Centre
Tickets from  The Post Office, Flower Shop and the Library costing £12.00 including a two-course meal.
 Come and have a terrific night out with Barrow Panto Group: they have the formula just right: entertainment, company, laughter, food, drink and even a bit of mental struggle! Buy your tickets soon: it's always a sellout.
SOLD OUT
The Importance of Digging Holes
Price:-
£10.00 (£9 concessions) £5 for under 18s
Date of Event:-
Friday 12th October
Time of Event:-
7:30pm
Venue:-
Humphrey Perkins Community Centre
Centre Stage in Barrow: Marking the centenary of the end of the First World War on Friday 12th October.
We are delighted to announce our first Centre Stage production of the season: "The Importance of Digging Holes: The Great War and More" brought to us by the professional touring theatre company  "Harp and a Monkey", full of rousing music and droll Lancashire humour.
The harp 'n' banjo driven electro-folk-storytelling trio Martin Purdy, Simon Jones and Andy Smith imbue their first set with a deep Lancashire sensibility that shines through in their beautifully crafted and sometimes spooky vignettes of northern life, love and remembrance. The outfit, who have been friends for more than 20 years, channel the ghosts of summers spent in municipal parks and winters walking on the moors. Songs about cuckolded mole catchers, a lone English oak tree that grows at Gallipoli, care in the community and medieval pilgrims…
As part of an ongoing project (part-sponsored by Arts Council England and The Western Front Association) to mark the centenary of the First World War, the second set is new material and re-worked traditional songs which strive to challenge stereotypes of the conflict, and which focus heavily on forgotten aspects of the war (from the horror of being a postman, to the role of musicians) and also on the forgotten men - those ex-servicemen who came home, and their families. 
Formed in 2008, Harp and a Monkey are proud of the strength of their reputation as a quality live act and excellent rapport with their audiences.  The trio's melodic and hauntological storytelling, underpinned by a firm commitment to classic song-smithery, has caught the attention and support of BBC Radio 2, BBC Radio 3, Folk Radio UK and many more international, national and regional broadcasters. 'Undoubtedly one of the most vital and charismatic thing happening in English folk music right now' says fRoots Magazine .
'Absolutely top stuff… very, very interesting and unusual song-writing. An Incredible String Band for the 21st century.' Mike Harding, BBC Radio 2 'Folk Show'
 The Importance of Digging Holes will start at 7.30 on Friday October 12th in the Community Centre, Humphrey Perkins.
Tickets will be available at The Post Office, Flower Shop and the Library. Prices all give a £1 off for tickets bought in advance: £10 for adults, £9 for concessions  and £5 for under 18s.
This is the way to experience professional theatre: within walking distance or easy parking, warm, welcoming, cheap, with a bar and good disabled facilities.  DO COME!
Autumn Dance
Price:-
£12.50
Date of Event:-
Saturday 20th October
Time of Event:-
7:00 for 7:30pm
Venue:-
Humphrey Perkins Community Centre
Doors open at 7:00pm for 7:30pm start.
Ballroom dancing with Just Us. Humphrey Perkins Community Centre; Tickets £12.50 including two course party buffet; full bar.
Come along and join us for what is always a really special dance under the guidance of Richard of that ever popular duo, Just Us. They will play a wide variety of music to suit your tastes: modern ballroom, sequence, Latin, Rock 'n Roll.
Barrow Youth Theatre presents: Hairspray
Price:-
£8.00 £6 concessions (60+, in full-time education, unwaged) £24 family (2 adults + 2 children)
Date of Event:-
November 16th, 17th and 18th
Time of Event:-
Friday 7:00pm Saturday 2:00pm & 7:00pm, Sunday 5:00pm
Venue:-
Humphrey Perkins Community Centre
Barrow Youth Theatre will wow you with their production of Hairspray on Friday Nov 16th (7:00pm), Saturday Nov 17th (2:00pm and 7:00pm) and Sunday Nov 18th (5:00pm) all at Humphrey Perkins Community Centre.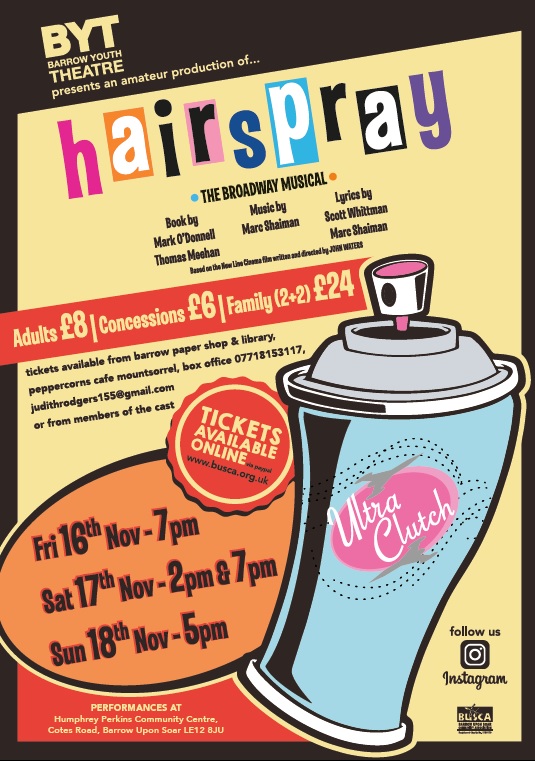 Tickets will cost £8.00, £6.00 (concessions) and £24.00 (family ticket of 2 +2). They can be bought on line by paypal or card from www.busca.org.uk, from Barrow Library or from The Flower Shop.
It's 1962 in Baltimore, USA and quirky, over weight teenager Tracy Turnblad has one dream: to dance on The Corny Collins Show. When she's put into detention with  black students in her school, they teach her some of their dance moves, and her new found skill wins her a spot on Corny's show. Overnight, Tracy transforms from a nobody into a star and uses her newfound influence to fight for racial integration on the television show.
Hairspray continues to be one of the most widely produced musicals today, not only because of its wit, charm and wonderful music  but also because of the beautiful message of acceptance and progress that it portrays. The bright, energetic story of Tracy Turnblad teaches us all to look past the color of someone's skin and fight for every human being's equal rights.
This show will sell out so don't wait: get your tickets Now!
Christmas Street Market and big Switch-on 2018
Price:-
FREE
Date of Event:-
Saturday 1st December
Time of Event:-
2:30pm to 5:30pm
Venue:-
High Street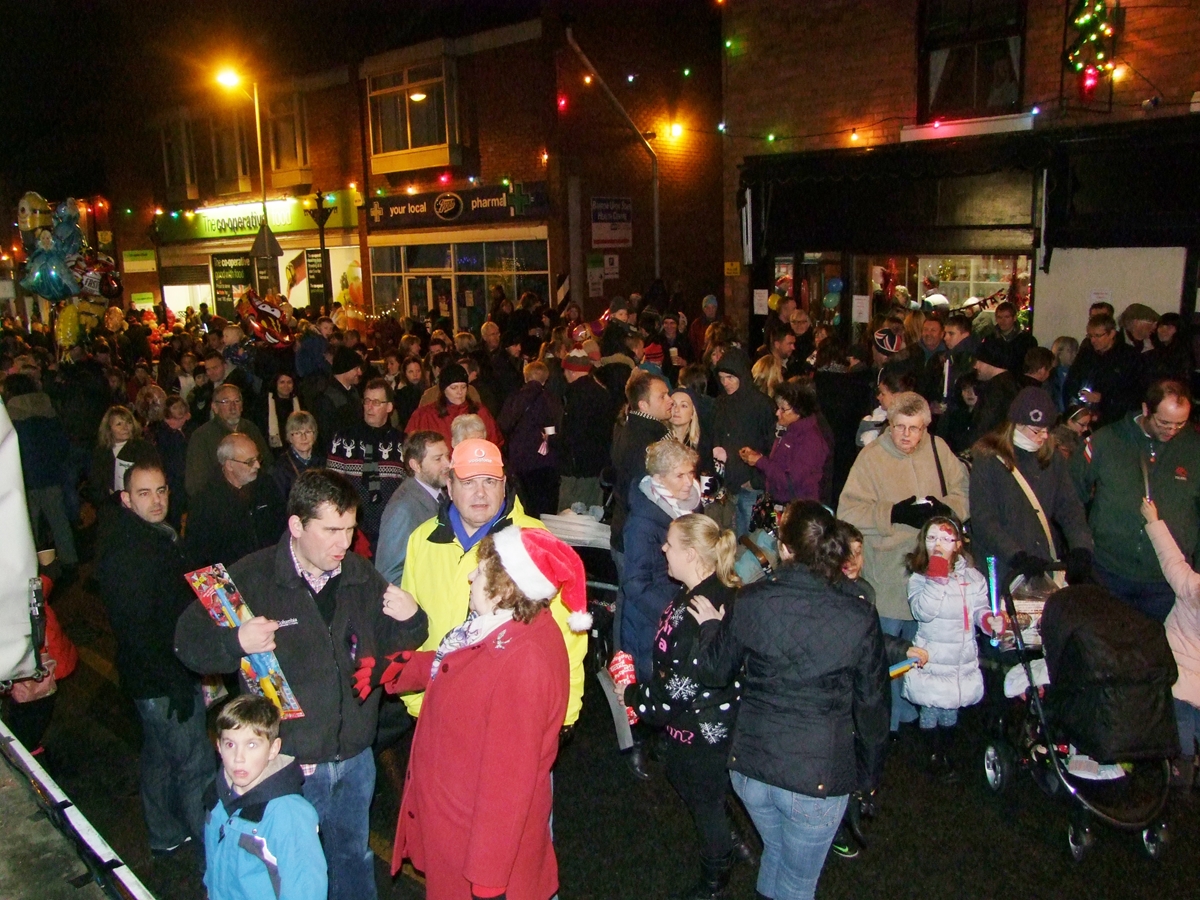 The Christmas Street Market and Big Switch-On is Saturday 1st December from 2:30pm - 5:30pm.
Lots of stalls, food, drinks, entertainments, face-painting, balloon modelling, fairground rides, Santa's Grotto, free mince pies, presents to buy etc etc....
It will be great! and you have the Christmas Tree Festival on the door step too.
Look out for posters with the times of events.
If you want to run a stall, complete the Application Pack , and send to Nicola Noble:
Email: barrowchristmasmarketstalls@gmail.com
Tel: 07786 232766
---